The fantastic McCulloch MC1385 Deluxe steam cleaner is a great machine for all types of household jobs. It's much more versatile than a steam mop, and the convenience of having this kind of machine in your house is a privilege. But with so many models, brands, and price ranges of steam cleaners on the market, is the MC1385 best option for you?
Features Summary

1500 watts heating power

Ready in 12 minutes

64 oz. water tank capacity

Provides up to 120 minutes of continuous steam

You will always know how much pressure you're using with its pressure gauge

Adjustable steam

10-foot steam hose

30-foot power cord which is long enough to reach most outlets —even in bigger rooms



Pros
Right out of the box the MC1385 Deluxe amazes us with its exceptional build quality. Also, it's easy to handle and maneuver. Below we'll list what we like most about this steam cleaner.
Ability to Adjust Steam Intensity
The MC1385 Deluxe has a dial that allows you to choose how much or how little steam to use. So you can adjust the steam level as you need. If you're blasting away the stubborn stain on a backyard grill, you can dial the nozzle up to top power. Let's say you're working on your expensive sofa and don't want to damage the material just turn the nozzle down. The high-temperature steam produced by the MC1385 Deluxe can penetrate deep into surfaces and dissolve dirt, grease, and grime, making it an effective tool for removing tough stains and deep-seated dirt.
Pressure Gauge
With the easy-to-read pressure gauge, you will always know how much pressure you're using. It is a very handy feature we always look for in a steam cleaner.
Extra-long Power Cord
The MC1385 Deluxe's power cord is 30-foot long and it has a 10-foot steam hose (Do not worry, it doesn't lose pressure or heat and steam still comes out strong) that allows you to maneuver around your home easily. You can roll this unit around your kitchen, dining room, bedroom, and hallway without unplugging it. It also has an integrated cord wrap so you can store the machine easily and keep the cord safe. So you will reach all areas of your home without having to unplug and move the unit.
Large Water Tank
It has a 64 oz. water tank that can provide continuous steam for up to 120 minutes, which is enough even for long detailed room-by-room spring cleaning, so you don't have to constantly refill the tank.
Cons
As with most steam cleaners, the MC1385 Deluxe has a minor con to take into consideration:
Slow Heat Up Time: It has a 64 oz. large boiler, so it takes some time for the pressure to build up. After powering up, steam cleaner will be ready in about 12 minutes, so it is a bit on the slow side.
Accessories
You get 23 versatile attachments that will help to keep your house clean. Here are some of them:
A Floor Mop
Mop Pads
Nylon Brushes
Brass Brush
Angled Nozzle
Scrub Pad
Scraper
Squeegee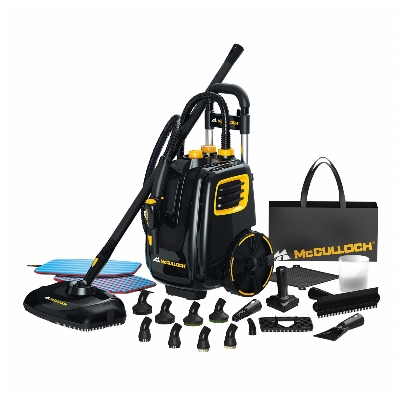 What Customers Think About the MC1385
People generally have positive opinions about the McCulloch MC1385 Deluxe steam cleaner. They praise its large water tank capacity, the variety of hose-based attachments, and its ability to produce a powerful steam for cleaning purposes. The steam cleaner has proven effective for cleaning car interiors, walls, floors, and various surfaces without the need for chemicals. Users appreciate the long runtime and the steam cleaner's ability to reach small and difficult-to-access areas.
However, some customers pointed out minor drawbacks. They mentioned that the hose can be difficult to store and might be prone to damage, the attachment points can sometimes be loose, and the extensions for the mop might feel flimsy. Others noted that filling the water tank can require patience, and some felt the machine is not suitable for heavy-duty outdoor cleaning or tasks that require high-pressure steam. Storage for the overall machine was considered awkward by a few users.
Despite these concerns, customers found the steam cleaner useful for a wide range of applications and praised its performance, as well as McCulloch's customer service. They recommend it for those looking to clean their homes without chemicals and are willing to put in some effort to achieve a thorough clean.
Should You Buy the McCulloch MC1385 Deluxe
The McCulloch MC1385 Deluxe is a great steam cleaner for anyone who wants to make cleaning chores easier. It offers pretty much everything you want in a steam cleaner. It comes with a nice assortment of accessories, has a large water tank to provide steam for up to two hours, and a long power cord to reach anywhere easily.
McCulloch MC1385 Deluxe Specifications
| | |
| --- | --- |
| Brand | McCulloch |
| Model | MC1385 Deluxe |
| Type | Canister |
| Heat Up Time | 12 min. |
| Heating Power | 1500 watts |
| Continuous Steam Time | up to 120 min. |
| Water Tank Capacity | 64 oz. |
| Pressure Gauge | |
| Number Of Accessories | 23 |
| Power Cord Length | 30-foot |
| Integrated cord wrap | |
| Steam Hose Length | 10-foot |
| Max Pressure | up to 58 psi |
| Variable Steam | |
| Weight | 13 lbs. |
| Dimensions(LxWxH in. ) | 13.1 in X 13.35 in. X 19.05 in |
| Warranty | 2-year warranty |
| Manufacturer Website | Link |
| | See Price at Amazon |