If you'd like to compare the McCulloch MC1385 Deluxe to the MC1375 before making your decision, here are the ways that the two models differ from each other.
The most notable difference between the MC1385 and MC1375 is the water capacity. The MC1385 has a 64 oz. water tank, and with its 1500 W heating power it takes about 12 minutes to get started using the machine. The MC1375 comes with has a 48 oz. water tank. It also has a 1500 W heating power so it is a little faster (10 min) to get started with the MC 1375. Of course, a larger water tank means you can keep steaming longer without refilling the tank (120 min vs. 90 min). They can both exert a max pressure of up to 58 psi, promising a high steam power for stubborn grime and dirt.
The power cord length of the MC1375 Deluxe is longer (30 ft. vs. 18 ft.), and both machines do have integrated cord wrap for easy storing.
A great thing that we enjoy about McCulloch steam cleaners is the number of accessories they include. The MC1385 Deluxe comes with 23 accessories, while the MC1375 comes with 20 accessories.
McCulloch

MC1385 Deluxe

McCulloch

MC1375
McCulloch MC1375 vs MC1385 Deluxe, Key Differences:
The McCulloch MC1385 Deluxe has a longer continuous steam time (120 minutes vs. 90 minutes).
The MC1385 Deluxe has a larger water tank capacity (64 oz. vs. 48 oz.).
Heat-up time for the MC1385 Deluxe is longer (12 minutes vs. 10 minutes).
The power cord of the MC1385 Deluxe is longer (30-foot vs. 18-foot).
The MC1385 Deluxe comes with more accessories (23 vs. 20).
The MC1375 is lighter in weight (10.78 lbs. vs. 13 lbs.) and has smaller dimensions.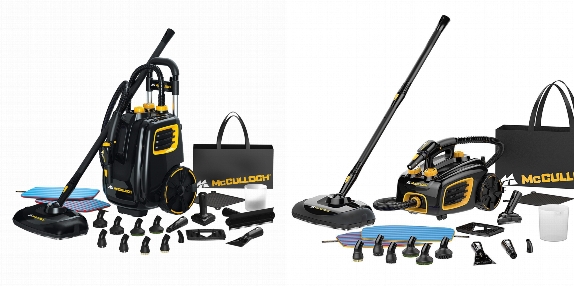 McCulloch MC1385 Deluxe

vs

McCulloch MC1375

Specs Table
| | | |
| --- | --- | --- |
| Brand | McCulloch | McCulloch |
| Model | MC1385 Deluxe | MC1375 |
| Type | Canister | Canister |
| Heat Up Time | 12 min. | 10 min. |
| Heating Power | 1500 watts | 1500 watts |
| Continuous Steam Time | up to 120 min. | up to 90 min. |
| Water Tank Capacity | 64 oz. | 48 oz. |
| Pressure Gauge | | |
| Number Of Accessories | 23 | 20 |
| Power Cord Length | 30-foot | 18-foot |
| Integrated cord wrap | | |
| Steam Hose Length | 10-foot | 10-foot |
| Max Pressure | up to 58 psi | up to 58 psi |
| Variable Steam | | |
| Weight | 13 lbs. | 10.78 lbs. |
| Dimensions(LxWxH in. ) | 13.1 in X 13.35 in. X 19.05 in | 15.55 in X 12.13 in. X 10.50 in |
| Warranty | 2-year warranty | 2-year warranty |
| Manufacturer Website | Link | Link |
| | See Price at Amazon | See Price at Amazon |