In this comparison, we will check out how Dupray Neat stacks up against the Dupray Home, and learn about the main differences between these steam cleaners.
Both of these cleaners are canister types, which are known for their versatility and power. They offer a continuous steam time of up to 50 minutes and come with a 6-foot steam hose. Both also feature an integrated cord wrap for easy storage. However, these two models are not without their differences.
Dupray

Neat Steam Cleaner

Dupray

Home Steam Cleaner
Dupray Home vs Neat, Key Differences
The Dupray Neat has a slightly quicker heat-up time at 7 minutes, compared to the Dupray Home's 8 minutes. It also boasts a larger water tank capacity of 54 oz, as opposed to the Dupray Home's 34 oz. The power cord of the Dupray Neat is also longer, measuring 16 feet compared to the Dupray Home's 7-foot and 5-inches cord. One key difference to note is that the Dupray Home offers a variable steam feature, which gives you the flexibility to adjust the steam pressure according to your needs.
Here are some notable differences and similarities you might want to consider:
Both models can run up to 50 minutes with one fill-up.
Both models have a 6-foot steam hose.
Dupray Neat has a larger water tank: 54 oz. compared to Dupray Home's 34 oz. capacity.
The heating power and heat-up time of each machine are very similar, Dupray Neat:1500 watts – 7 minutes, Dupray Home:1450 watts – 8 minutes.
The Dupray Neat comes with 10 accessories, while the Dupray Home comes with 14.
Both models offer a maximum pressure, but the Dupray Neat's is slightly higher at 50 psi compared to the Dupray Home's 46 psi.
The Dupray Neat is slightly lighter in weight at 9 lbs, while the Dupray Home weighs 9.26 lbs.
One major advantage of the Dupray Home is its variable steam feature; you can select the steam pressure as you wish.
Dupray Home comes with a better warranty: 3 years vs 2 years.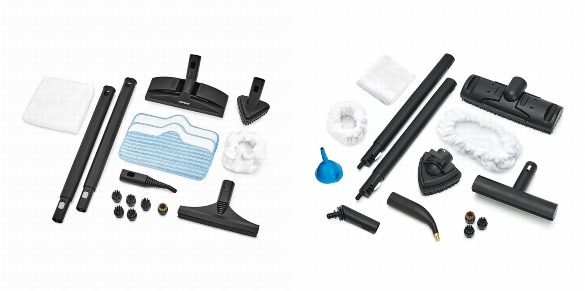 Dupray Neat

vs

Dupray Home

Specs Table
| | | |
| --- | --- | --- |
| Brand | Dupray | Dupray |
| Model | Neat | Home |
| Type | Canister | Canister |
| Heat Up Time | 7 min. | 8 min. |
| Heating Power | 1500 watts | 1450 watts |
| Continuous Steam Time | up to 50 min. | up to 50 min. |
| Water Tank Capacity | 54 oz. | 34 oz. |
| Pressure Gauge | | |
| Number Of Accessories | 10 | 14 |
| Power Cord Length | 16-foot | 7-foot and 5-inches |
| Integrated cord wrap | | |
| Steam Hose Length | 6-foot | 6-foot |
| Max Pressure | up to 50 psi | up to 46 psi |
| Variable Steam | | |
| Weight | 9 lbs. | 9.26 lbs. |
| Dimensions(LxWxH in. ) | 10.5 in X 10.5 in. X 9.5 in | 10 in X 10 in X 16 in |
| Warranty | 2-year warranty | 3 years on parts, Lifetime on stainless steel boiler |
| Manufacturer Website | Link | Link |
| | See Price at Amazon | See Price at Amazon |