The McCulloch MC1385 and the Karcher SC 3 EasyFix are both great performing steam cleaners, with some key differences.
They each have variable steam settings. The maximum pressure is 58 psi on the MC1385 Deluxe and 44 psi on the Karcher SC 3 EasyFix.
Concerning heat up time, with the SC 3 EasyFix you can start cleaning in just 1 minute, while with the MC1385 Deluxe it can take up to 12 minutes to get started, this is due to its large 64 oz. water tank, compared to EasyFix's 34 oz. water tank.
So, which model should you go for? Below we compare both machines across a number of specs, looking at them side by side.
McCulloch

MC1385 Deluxe

Karcher

SC 3 EasyFix
Here are the key differences between the two models:
The McCulloch MC1385 Deluxe has a heat up time of 12 minutes, while the Karcher SC 3 EasyFix heats up in just 1 minute.
The McCulloch has a water tank capacity of 64 oz, almost double the Karcher's 34 oz tank.
The McCulloch offers up to 120 minutes of continuous steam time, compared to the Karcher's 25 minutes.
The McCulloch has a pressure gauge, while the Karcher does not.
The McCulloch comes with 23 accessories, more than double the number that comes with the Karcher (9 accessories).
The McCulloch's power cord is significantly longer than the Karcher's (30-foot vs 13-foot).
The McCulloch has an integrated cord wrap, a feature absent in the Karcher model.
The McCulloch offers a max pressure of up to 58 psi, which is higher than the Karcher's 44 psi.
The McCulloch is heavier and larger in size compared to the Karcher.
The Karcher offers a longer warranty of 3 years, compared to the McCulloch's 2-year warranty.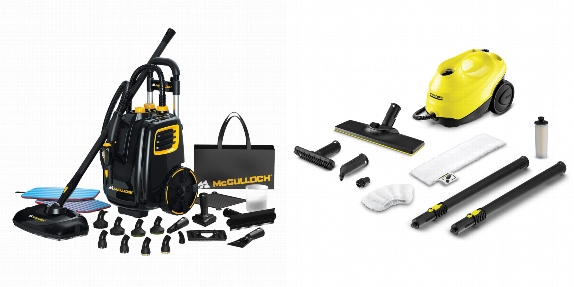 McCulloch MC1385 Deluxe

vs

Karcher SC 3 EasyFix

Specs Table
| | | |
| --- | --- | --- |
| Brand | McCulloch | Karcher |
| Model | MC1385 Deluxe | SC 3 EasyFix |
| Type | Canister | Canister |
| Heat Up Time | 12 min. | 1 min. |
| Heating Power | 1500 watts | 1450 watts |
| Continuous Steam Time | up to 120 min. | up to 25 min. |
| Water Tank Capacity | 64 oz. | 34 oz. |
| Pressure Gauge | | |
| Number Of Accessories | 23 | 9 |
| Power Cord Length | 30-foot | 13-foot |
| Integrated cord wrap | | |
| Steam Hose Length | 10-foot | 6.4-foot |
| Max Pressure | up to 58 psi | up to 44 psi |
| Variable Steam | | |
| Weight | 13 lbs. | 6.83 lbs. |
| Dimensions(LxWxH in. ) | 13.1 in X 13.35 in. X 19.05 in | 14.17 in X 9.29 in. X 9.96 in |
| Warranty | 2-year warranty | 3-year warranty |
| Manufacturer Website | Link | Link |
| | See Price at Amazon | See Price at Amazon |