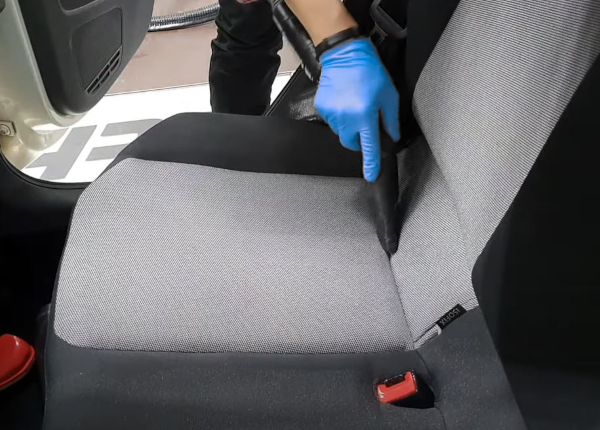 Looking for a deep clean for your car? Car steam cleaners are the answer! They work like a portable washing machine, right there on your car seat. These tools are great for car detailing, and they can help remove things like allergens, bacteria, mold, and even bad smells. They're also handy for cleaning car exteriors, gently lifting off dirt like bird droppings and tree sap. And the best part? It's an eco-friendly way to clean.
If you're a regular driver, you know how quickly the interior of a car can get dirty. Stains, mud, pet hair, and yes, even those coffee spills, can all take a toll on your car's interiors. The good news is cleaning car interiors doesn't have to be a chore. With the right steam cleaner, you can get into the nooks and crannies of your upholstery, keeping your car looking its best with minimal effort.
Now, with so many options available, choosing the right steam cleaner for car cleaning might feel a bit overwhelming. But don't worry we've looked at all kinds of steam cleaners, from the big, powerful models with lots of attachments, to the smaller, more portable ones. We've considered every detail, so you can find the best steam cleaner for car detailing within your budget.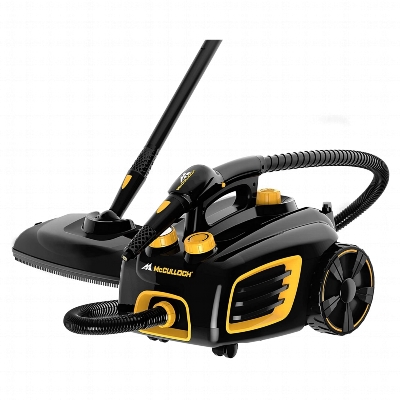 McCulloch MC1375
Heat Up Time: 10 min.
Steam Time: up to 90 min.
Power: 1500 watts
Water Tank: 48 oz.
Accessories: 20
Max Pressure: 58 psi
Hose Length: 10-foot
Power Cord: 18-foot
The McCulloch MC1375 is our top choice, boasting high pressure, 20 accessories, and up to 90 minutes of steam. It features a lengthy steam hose coupled with an extended power cord, which are both incredibly important for car cleaning. The long hose and cord ensures ease and flexibility in maneuvering around the vehicle, making it simpler to access the hard-to-reach areas without frequently relocating the main unit. It is also our top pick for
the best steam cleaners of 2023
.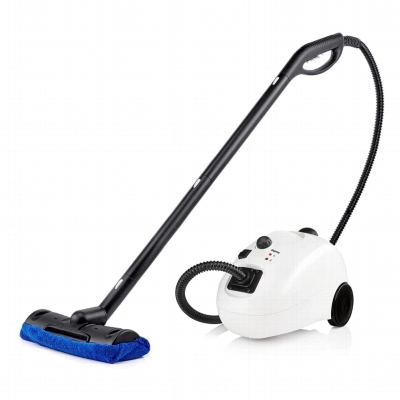 Dupray Home
Heat Up Time: 8 min.
Steam Time: up to 50 min.
Power: 1450 watts
Water Tank: 34 oz.
Accessories: 14
Max Pressure: 46 psi
Hose Length: 6-foot
Power Cord: 7-foot and 5-inches
The Dupray Home is perfect for all car cleaning tasks and is our top pick for best value. It heats up fast comes with several handy nozzles.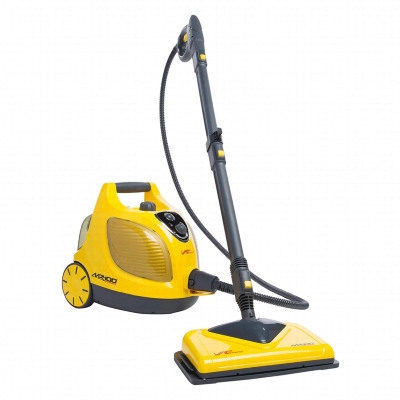 Vapamore MR-100 Primo
Heat Up Time: 11 min.
Steam Time: up to 60 min.
Power: 1500 watts
Water Tank: 54 oz.
Accessories: 20
Max Pressure: 50 psi
Hose Length: 6-foot
Power Cord: 18-foot
The Vapamore MR-100 may lean on the pricier side, but its robust construction and lifetime warranty make it a worthwhile investment. Additionally, it comes with an impressive set of 20 accessories and has the capacity to deliver continuous steam for up to an hour.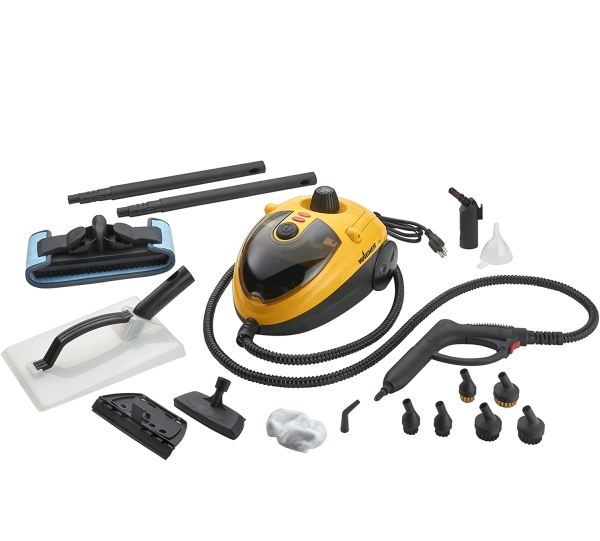 Wagner Spraytech
Heat Up Time: 9 min.
Steam Time: up to 40 min.
Power: 1500 watts
Water Tank: 40 oz.
Accessories: 18
Max Pressure: 41 psi
Hose Length: 8-foot
The Wagner Spraytech is one of the best steam cleaners for car detailing; it comes with an impressive set of 18 attachments.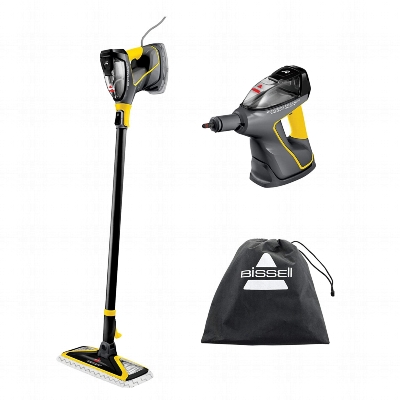 BISSELL Power-Steamer
Heat Up Time: 30 seconds
Steam Time: up to 10 min.
Water Tank: 11.8 oz.
Accessories: 25
Power Cord: 25-foot
Weight: 6.125 lbs.
The BISSELL Power-Steamer is our top choice for a portable car steam cleaner. It's excellent for cleaning both the inside and outside of vehicles. Plus, it has a handy wall mount which makes storing it in your garage a breeze. However, it's important to note that this is not a pressurized steam cleaner.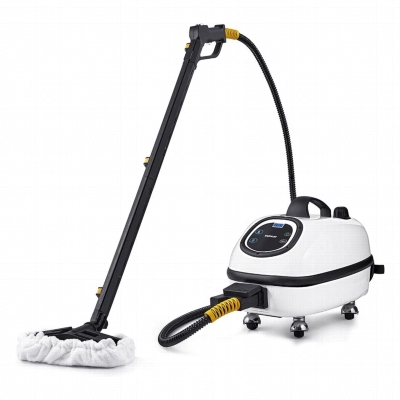 Dupray Tosca
Heat Up Time: 7 min.
Steam Time: up to 90 min.
Power: 1600 watts
Water Tank: 134 oz.
Accessories: 25
Max Pressure: 72 psi
Hose Length: 10-foot
Power Cord: 15-foot
Our top selection for a commercial-grade steam cleaner for car cleaning is the Dupray Tosca. With its 134-ounce water tank, it can achieve pressures of up to 72 psi, and has a 10-foot steam hose. Furthermore, it is capable of delivering steam for up to 90 minutes. Additionally, it comes with a comprehensive set of accessories to meet all your car detailing needs.
Best Steam Cleaner Types for Car Detailing
When choosing a steam cleaner for detailing your car, it's important to consider the type of machine, its add-ons, and its features. Here are the types suited for car detailing.
Handheld Steam Cleaners: Some handheld steam cleaners are specifically designed for car cleaning. They are small and easy to carry, which makes them handy for cleaning the inside of cars, like seats, air vents, and tight spots. They often come with lots of nozzles and other attachments for cleaning different parts of the car.
Canister Steam Cleaners: Canister steam cleaners with specialized attachments are great for car detailing. These cleaners often come with a range of accessories such as brushes and nozzles and usually have long steam time, making them a great option.
Vapor Steam Cleaners: These are particularly popular for car detailing because the dry steam vapor they produce cleans without leaving surfaces too wet. This is important for car interiors, as excessive moisture can cause problems such as mold and smell.
Commercial Steam Cleaners: In a professional car detailing setting, commercial-grade steam cleaners are often used due to their high power and performance. They are capable of handling heavy-duty cleaning tasks and can be used for longer periods without needing a refill, which is ideal for business operations.
How To Steam Clean a Car
Keeping your car clean is essential for both looks and health. That's where steam cleaning shines! It's a smart, eco-friendly way to deeply clean your car, without the harsh chemicals. This guide will show you how to steam clean various parts of your car, from upholstery and carpets to windows and wheels. Let's get your car looking its best!
Car Interior Upholstery: To clean the seats, use a steam cleaner with a triangular brush attachment covered with a microfiber cloth. Steam loosens up the dirt and the cloth catches it. This method is also great for leather as it refreshes it, and for sensitive fabrics like suede because it's gentle.
Car Carpets and Mats: First vacuum the carpets to get rid of loose dirt. Then use the steam cleaner with a bristle attachment to go over the carpets. This lifts dirt out from deep in the carpets. After steaming, vacuum again for a clean finish.
Car Windows: For windows, use a steam cleaner with a squeegee attachment. Go from top to bottom, and the steam will soften grime while the squeegee will remove it. This leaves windows clean without any streaks.
Consoles and Dashboards: Use a lance attachment with low-moisture steam to remove dust and dirt from the dashboard, radio, and other controls. It's effective and safe.
Ventilation System: Use a steam cleaner with a nozzle to send bursts of steam into the vents. This is great for removing allergens, dust mites, and dirt, and can help with air quality in the car.
Car Body: For the exterior, use a high-powered steam cleaner. Steam helps to open the pores in the paint and remove dirt and wax, which can make your car look dull. This method uses less water and gives a nice shine to the car.
Wheels and Rims: Use steam to loosen the brake dust and grime on the wheels. Then, simply wipe them down with a microfiber cloth. It's quick and leaves your wheels looking brand new.
Using Steam Cleaners for Cars: FAQ
Is it okay to use a high-pressure steam cleaner for cleaning my car?
A high-pressure steam cleaner can be used for cleaning your car, but use it carefully. Keep it moving to avoid damage to paint or plastic. Also, consider lower pressure for delicate areas like the interior.
Does steam cleaning harm car paint?
Steam won't harm your car's paint. But, be careful with rubber and plastic parts as using a steam cleaner the wrong way can damage them. Avoid focusing the hot steam on one spot for too long. Just keep the steam cleaner moving and your car's interior should be fine.
Is it okay to steam clean leather seats?
Yes. Besides cleaning, steam also helps to freshen up and add moisture to the leather.