The compact BISSELL Power Steamer Heavy Duty 3-in-1 Steam Mop is perfect for all kinds of fast cleaning jobs. It is much more versatile than a ordinary steam mop and convenient in many ways with its handheld design. In this review, I'll share my personal experience and insights on this powerful steam cleaner, which I believe could be a fantastic addition to your cleaning arsenal.
Key Features

Compact handheld design

Ready in 30 sec.

11.8 oz. water tank capacity

Provides continuous steam up to 10 min.

25-foot power cord



Pros
Right out of the box the Power Steamer surprises us with its exceptional build quality. Also, it's easy to handle and not very heavy even with a full water tank. Below we'll list what we like most about this machine.
Extra-long Power Cord
The Power Steamer's power cord is 25-foot long that allows you to maneuver around your home with ease. The power cord is pretty thick and will not be damaged easily.
Easy to Use
One of the first things I noticed about the BISSELL Power Steamer was how easy it was to use and straightforward machine it is, I quickly became familiar with its various functions. The wall mount is perfect, and the bag for the attachments is a great addition so it stores very neatly.
Cleans Well
It cleans very well; you can clean your floors quickly and easily. Comes with good attachments that you will really use. It fits well under the edges of furniture and appliances. I've used it on various surfaces around my home, including tile floors, carpets, and upholstery. It loosened dirt and grime easily, and the included attachments made it easy to clean even hard-to-reach areas. Also, as someone who is environmentally conscious, I appreciate the fact that the BISSELL Power Steamer uses only water to clean.
Cons
Although the Power Steamer Heavy Duty 3-in-1 Steam Mop is an exceptional machine in many ways, it's not perfect.
Slow Heat Up Time: It has a 11.8 oz. boiler which heats up in about 30 seconds so it is very slow compared to other models.
Small Water Tank: One noticeable drawback is that it has a 11.8 oz. boiler tank that can provide continuous steam only for up to 10 minutes, I would like a larger water tank but this is a handheld model so it is an expected disadvantage with this type of machines otherwise it would be pretty bulky to hold.
Accessories
You get 25 easy to use attachments with an accessory bag that will help in your fight to keep your home dirt and pathogen-free.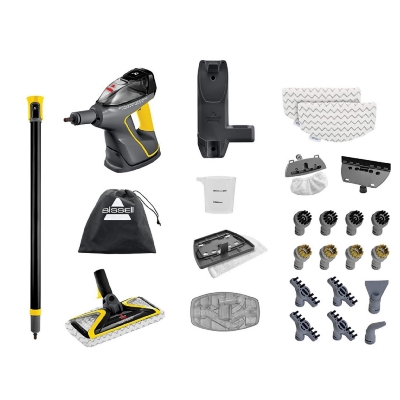 Final Verdict: Should You Buy the BISSELL Power Steamer
The BISSELL Power Steamer is a great package for anyone who wants to make their cleaning chores easier. It offers pretty much everything you want in a steam cleaner. I think having BISSELL Power Steamer Heavy Duty 3-in-1 will make your life so much easier when cleaning so I highly recommend this model. This steam cleaner has truly transformed the way I clean my home, and I'm confident that it can do the same for you.
BISSELL Power Steamer Specifications
| | |
| --- | --- |
| Brand | BISSEL |
| Model | Power Steamer Heavy Duty 3-in-1 (2685A) |
| Type | Handheld |
| Heat Up Time | 30 sec. |
| Continuous Steam Time | up to 10 min. |
| Water Tank Capacity | 11.8 oz. |
| Pressure Gauge | N/A |
| Number Of Accessories | 25 |
| Power Cord Length | 25-foot |
| Integrated cord wrap | |
| Steam Hose Length | N/A |
| Max Pressure | This model is not a pressurized steam cleaner |
| Variable Steam | N/A |
| Weight | 6.125 lbs. |
| Dimensions(LxWxH in. ) | 14 in X 9.5 in X 46.5 in |
| Warranty | 2-year warranty |
| Manufacturer Website | Link |
| | See Price at Amazon |