Read on our comparison to find out the differences between the MC1375 and the MC1275 steam cleaners from McCulloch.
After researching both machines closer, we have found some differences.
The McCulloch MC1375 has a longer power cord (18-foot vs. 15-foot), variable steam, pressure gauge, and has an integrated cord wrap, while the MC1275 does not. In terms of maximum pressure, the MC1375, again, has the advantage. It can reach a maximum pressure of 58 psi compared to the MC1275's 40 psi. Another great thing that we love about the MC1375 is the number of accessories included in the box.
Overall these differences are no big deal since both machines are excellent and are worth the money, but we think the MC1275 finished just a few points behind the MC1375.
McCulloch

MC1375

McCulloch

MC1275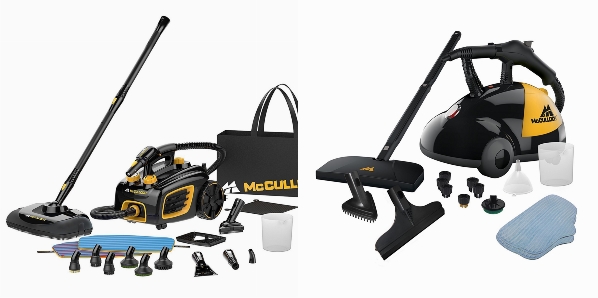 McCulloch MC1375

vs

McCulloch MC1275

Specs Table
| | | |
| --- | --- | --- |
| Brand | McCulloch | McCulloch |
| Model | MC1375 | MC1275 |
| Type | Canister | Canister |
| Heat Up Time | 10 min. | 8 min. |
| Heating Power | 1500 watts | 1500 watts |
| Continuous Steam Time | up to 90 min. | up to 90 min. |
| Water Tank Capacity | 48 oz. | 48 oz. |
| Pressure Gauge | | |
| Number Of Accessories | 20 | 18 |
| Power Cord Length | 18-foot | 15-foot |
| Integrated cord wrap | | |
| Steam Hose Length | 10-foot | 10-foot |
| Max Pressure | up to 58 psi | up to 40 psi |
| Variable Steam | | |
| Weight | 10.78 lbs. | 9.95 lbs. |
| Dimensions(LxWxH in. ) | 15.55 in X 12.13 in. X 10.50 in | 17.2 in X 10.5 in. X 13.50 in |
| Warranty | 2-year warranty | 2-year warranty |
| Manufacturer Website | Link | Link |
| | See Price at Amazon | See Price at Amazon |