In this comparison, we will compare the McCulloch MC1375 and MC1270 and highlight the pros and cons of each model. We hope that you'll be able to decide which steam cleaner is a better choice for your needs.
Both the models are great machines, but the MC1270 is relatively more compact and lightweight when compared to the MC1375. The MC1375 is a full-size model, that comes with a larger capacity water tank (48 oz. vs 25 oz.), longer steam hose (10-foot vs 4-foot), has a longer continuous steam time, and can provide a higher pressure. The main drawback to MC1270 is that it does not have a pressure gauge.
Both models are equipped with advanced safety and reliability features and backed by a 2-year warranty.
Overall, the McCulloch MC1375 is your ideal steam cleaner if steam time and pressure are your primary consideration. In that regard, it outperforms the compact McCulloch MC1270.
McCulloch

MC1375

McCulloch

MC1270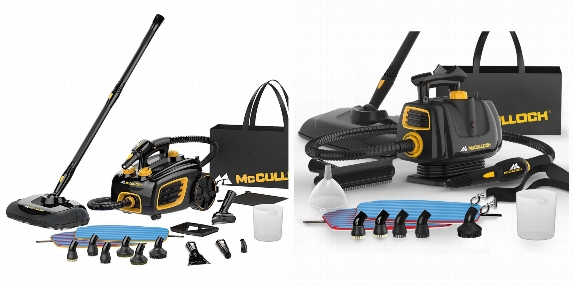 McCulloch MC1375

vs

McCulloch MC1270

Specs Table
| | | |
| --- | --- | --- |
| Brand | McCulloch | McCulloch |
| Model | MC1375 | MC1270 |
| Type | Canister | Portable |
| Heat Up Time | 10 min. | 5 min. |
| Heating Power | 1500 watts | 1500 watts |
| Continuous Steam Time | up to 90 min. | up to 30 min. |
| Water Tank Capacity | 48 oz. | 25 oz. |
| Pressure Gauge | | |
| Number Of Accessories | 20 | 16 |
| Power Cord Length | 18-foot | 15-foot |
| Integrated cord wrap | | |
| Steam Hose Length | 10-foot | 4-foot |
| Max Pressure | up to 58 psi | up to 30 psi |
| Variable Steam | | |
| Weight | 10.78 lbs. | 4.54 lbs. |
| Dimensions(LxWxH in. ) | 15.55 in X 12.13 in. X 10.50 in | 11 in X 5.25 in. X 10.88 in |
| Warranty | 2-year warranty | 2-year warranty |
| Manufacturer Website | Link | Link |
| | See Price at Amazon | See Price at Amazon |
What Customers Saying About the McCulloch MC1375
People seem to have mixed opinions about the McCulloch MC1375 steam cleaner. On the positive side, they appreciate its versatility, flexibility, and the wide range of attachments provided. Users mentioned that it is useful for cleaning various surfaces and areas, such as floors, carpets, kitchen appliances, bathrooms, and cars. The long electrical cord, steam hose, and extension wands are highly valued for their reach, and the unit's lightweight design is praised.
However, some users experienced issues with the steam cleaner, such as losing steam pressure quickly, especially when using the mop head attachments. Some users found it necessary to constantly refill the canister with water and wished it held more water. Others mentioned that it takes a long time to cover large areas of carpeting, and the mop head does not glide smoothly over carpets.
The steam cleaner's performance against fleas was mixed, with users reporting that it killed adult fleas and larvae but struggled with eggs on some surfaces. Users also noted that the triangle brush attachment does not have a rotating knob, which they considered a disadvantage.
Some users encountered issues with the accessories, including the triangle wand's bristles bending permanently out of shape and the round scrubbers wearing down quickly. The storage solutions provided, such as the carrying bag and the net for the end of the machine, were considered inadequate by some users.
Despite these concerns, many users still found the steam cleaner to be a good addition to their home cleaning equipment and would recommend it to others. They emphasized the importance of reading the instructions for the best results and to avoid damaging surfaces.
What Customers Saying About the McCulloch MC1270
People generally seem to have a positive opinion of the McCulloch MC1270 steam cleaner. They appreciate that it is not too big, gets hot enough to sanitize surfaces, and is easy to fill and use. Users also like the variety of attachments, which allows them to tackle different cleaning tasks, such as detailing cars, cleaning grout, and removing old paint or floor mastic.
However, some customers mentioned that the steam cleaner is not as effective in dealing with grease, requiring additional degreasing spray and scrubbing. There is also some dissatisfaction with the steam being non-continuous and the need to wait for the pressure to build up again. A few users mentioned that the cord is short, making it necessary to switch outlets frequently or use an extension cord.
Despite these drawbacks, customers generally seem happy with their purchase, finding the steam cleaner to be a useful tool for various cleaning tasks around the house. They also appreciate the large water tank, lightweight and portable design, and the availability of replacement attachments. Overall, the McCulloch MC1270 steam cleaner is seen as a versatile and valuable cleaning tool.