If you are looking for a compact canister steam cleaner that can and won't break the bank, then the McCulloch MC1275 and Dupray Neat are two great models to consider. They both come with several accessories and are great at removing stubborn dirt.
One minor advantage (on the paper) of the Dupray Neat is its 54-oz water tank capacity versus the McCulloch MC1275's 48-oz capacity. However, the MC1275 can provide steam much longer (up to 90 minutes) while the Dupray Neat can provide continuous steam for up to 50 minutes. The Dupray, on the other hand also provides slightly higher pressure at 50 psi compared to McCulloch's 40 psi.
McCulloch

MC1275

Dupray

Neat Steam Cleaner
Dupray vs McCulloch, Key Differences
The McCulloch MC1275 has a longer heat-up time at 8 minutes, whereas the Dupray Neat heats up in 7 minutes.
The McCulloch MC1275 offers a longer continuous steam time of up to 90 minutes, in comparison to the Dupray Neat's 50 minutes.
While the McCulloch MC1275 comes with 18 accessories, the Dupray Neat includes only 10.
The Dupray Neat has a larger water tank capacity (54 oz) than the McCulloch MC1275 (48 oz).
The Dupray Neat provides a higher max pressure (up to 50 psi) than the McCulloch MC1275 (up to 40 psi).
Both the McCulloch and Dupray are great options, and your choice between the two will depend on your specific needs. Whether it's a longer steam time, higher pressure, or a larger water tank capacity, both of these models are a win for anyone seeking a reliable steam cleaner.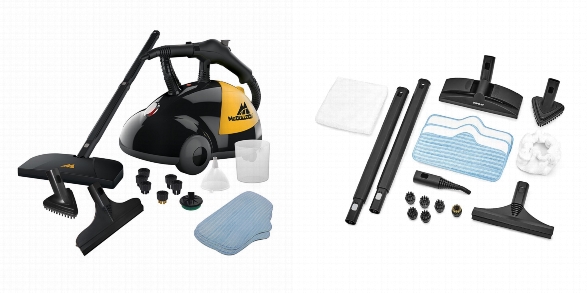 McCulloch MC1275

vs

Dupray Neat Steam Cleaner

Specs Table
| | | |
| --- | --- | --- |
| Brand | McCulloch | Dupray |
| Model | MC1275 | Neat Steam Cleaner |
| Type | Canister | Canister |
| Heat Up Time | 8 min. | 7 min. |
| Heating Power | 1500 watts | 1500 watts |
| Continuous Steam Time | up to 90 min. | up to 50 min. |
| Water Tank Capacity | 48 oz. | 54 oz. |
| Pressure Gauge | | |
| Number Of Accessories | 18 | 10 |
| Power Cord Length | 15-foot | 16-foot |
| Integrated cord wrap | | |
| Steam Hose Length | 10-foot | 6-foot |
| Max Pressure | up to 40 psi | up to 50 psi |
| Variable Steam | | |
| Weight | 9.95 lbs. | 9 lbs. |
| Dimensions(LxWxH in. ) | 17.2 in X 10.5 in. X 13.50 in | 10.5 in X 10.5 in. X 9.5 in |
| Warranty | 2-year warranty | 2-year warranty |
| Manufacturer Website | Link | Link |
| | See Price at Amazon | See Price at Amazon |