The Dupray One and One Plus are both great machines, that are equipped with some handy features and come with several great accessories.
If you're interested in learning more about differences, below, we put together a summary of what you need to know.
The two steam cleaners have much in common, but the One Plus brings one big advantage — non-stop steam technology — along with some other ones, including improved heat-up time, larger boiler capacity, and higher steam pressure.
The Dupray One is an exceptional machine but the One Plus, reaches a new level with the non-stop steam technology, with this feature, you simply add water during use for non-stop steam cleaning.
Both machines are very safe to use with ActiveSafe™ technology (Automatic shut-off, a pressurized safety cap with a built-in blowoff valve, and a childproof safety lock). They are equipped with an automatic shut-off function that monitors the temperature and senses the water level so that you never have to worry about burning out your steam cleaner.
At the end of the day, the Dupray One Plus wins against the Dupray One when it comes to total points, but we must say both of these steam cleaners are great, easy to use, safe, and perform wonderfully.
Dupray

One

Dupray

One Plus
Here's a quick summary differences:
The Dupray One Plus heats up in 8 minutes, which is 2 minutes quicker than the Dupray One.
The water tank of the One Plus has a capacity of 82 oz., significantly larger than the 46 oz. of the One.
The One Plus uses non-stop steam technology, providing a continuous steam time compared to the One's 50 minutes.
Maximum pressure is higher in the One Plus at 65 psi, compared to the One's 50.8 psi.
The One Plus comes with 17 accessories, one more than the One.
The One Plus weighs 15.15 lbs., slightly heavier than the One at 10.5 lbs.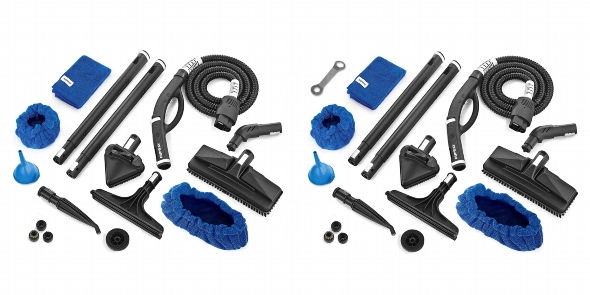 Dupray One

vs

Dupray One Plus

Specs Table
| | | |
| --- | --- | --- |
| Brand | Dupray | Dupray |
| Model | One | One Plus |
| Type | Canister | Canister |
| Heat Up Time | 10 min. | 8 min. |
| Heating Power | 1400 watts | 1400 watts |
| Continuous Steam Time | up to 50 min. | Non-stop steam technology |
| Water Tank Capacity | 46 oz. | 82 oz. (51.2. oz boiler) |
| Pressure Gauge | | |
| Number Of Accessories | 16 | 17 |
| Power Cord Length | 16-foot | 16-foot |
| Integrated cord wrap | | |
| Steam Hose Length | 6-foot | 6-foot |
| Max Pressure | up to 50.8 psi | up to 65 psi |
| Variable Steam | | |
| Weight | 10.5 lbs. | 15.15 lbs. |
| Dimensions(LxWxH in. ) | 12.5 in X 11 in. X 17 in | 12.5 in X 11 in. X 17 in |
| Warranty | 3 years on parts, Lifetime on stainless steel boiler | 3 years on parts, Lifetime on stainless steel boiler |
| Manufacturer Website | Link | Link |
| | See Price at Amazon | See Price at Amazon |